Oblong Turtle -- Chelodina oblonga
[2]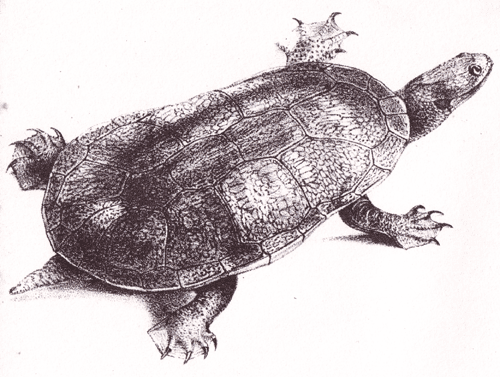 Scott Thomson published his research on the identification of the holotype of Chelodina oblonga in which he discussed the high probability of the holotype (B.M.N.H. 1947.3.5.89) being in actuality a specimen of what is currently referred to as C. rugosa from the Northern Territory. "Since the name Chelodina oblonga (based on the holotype) technically applies to the Northern Territory form of the long-neck turtle currently known as C. rugosa and since C. oblonga is the senior synonym of C. rugosa, the Principal of Priority of the International Code of Zoological Nomenclature (ICZN, 1999; Article 23) might require a name change for the northern form. In addition, it might also be necessary to resurrect the name Chelodina colliei Gray, 1856, for the southwestern Australian species from Perth." (Thomson, 2001)

Right photo: Drawing of Chelodina oblonga (Gray, 1841)

Here is Gray's (1856) description of Chelodina colliei (Gray 1856 - the syntype B.M.N.H. 1947.3.5.91 from the Swan River, Western Australia) which fits very much the species we know under the name of Chelodina oblonga.

In Capt., now Sir George Grey's Travels, I described and figured a species from Western Australia under the name of Chelodina oblonga. In a collection which we have lately received from Haslar Hospital, there are two very large specimens of the genus sent from Swan River by the late Mr Collie, which, though similar in several respects to Chelodina oblonga, may be considered as a distinct species, which I shall proceed to shortly characterize.

Bottom photo: Drawings of Chelodina oblonga featured in Gray 1855
The species of the genus hitherto described have the thorax covered with very thin smooth shields, so transparent that a peculiar black reticulated appearance, which exists between the shields and the bones of the thorax, can be distinctly seen through them. This character is common to C. longicollis of New Holland, C. oblonga, and Mr Collie's species from Swan River, which I propose to call, in honour of my late friend and excellent collector -
1. CHELODINA COLLIEI.
The shields oblong, elongate, contracted and revolute on the sides; under side uniform pale yellow.
Hab. Swan River, Alexander Collie, Esq.
This species agrees with C. oblonga in the uniform colour of the back and sternum, which is only varied by the dark lines of the netted appearance before referred to; but it is easily known from that species by its larger size, the much narrower shape, and the lateral margin becoming strongly revolute, and the edge over the hinder limb raised up and rather expanded.

It seems it is a question of time before the name Chelodina colliei is resurrected.
Etymology
The specific name was derived from the Latin oblongum (long, longish, oblong) and refers to the oblong shell. A part of the original description states "Shell oblong rather than contracted in front, with a broad impression on the middle of the back". (Gray, 1841) Its grammatical gender is feminine.
The common name of the species is either Oblong Turtle or Narrow-Breasted Snake-Necked Turtle. The species is also called Booyi (a Noongar name).
Morphology
As its common name Oblong Turtle suggests, the turtle's carapace is of oblong shape. The species reaches the carapace length of 310mm but some records declare even more: 40mm. (Cann, 1998) The carapace can be of black, blue-gray or brown colour while the long and narrow plastron is of bony colour. If the plastron is of brown colour, dark brown or black markings can be present making a quite regular pattern. The neck is very thick and long and can be up to 90% of the carapace length. (Cann, 1998)