Steindachner's Snake-necked Turtle -- Chelodina steindachneri
by Jan Matiaska
[1]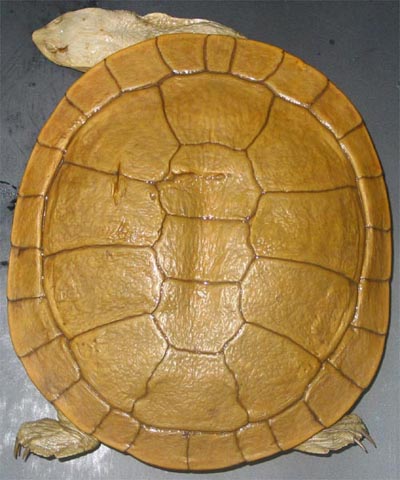 Introduction
Even though the species was described twice under two different names, Chelodina steindachneri is one of those long necked Chelidae we probably know the least about. It is the smallest Chelodina species and is endemic to Western Australia. The closest relatives of C. steindachneri are members of the Chelodina longicollis subgroup. (Georges et al., 2002) This paper summarizes the little known data about this unique species. If we want to understand the species' natural history, further research is inevitable.

Right photo: Dorsal view of the holotype of Chelodina steindachneri (N.M.W. 19798)
History and original description
The holotype specimen (N.M.W. 19798) is located in the Naturhistorische Museum in Vienna. It is not known who and when collected four small specimens that changed several hands before becoming part of the amphibians and reptiles collection of the Natural History Museum in Vienna. Not knowing the year, the collector could be anyone including James Drummond (1748-1863), Baron Ferdinand Von Mueller (1825-1896), Johann Augustus Ludwig Preiss (1811-1883) and other naturalists who all collected in Western Australia in the second half of the 19th century. As the early collectors had a habit of trading with or exchanging collected specimens, the name of the collector will most likely remain a mystery. Like most of the material collected in Australia, the four specimens of C. steindachneri were sent to Europe where they became a property of German Dr Paul Krefft (1872-1945), who was a nephew of the famous Dr Gerard Johann Ludwig Krefft (1830-1881). (Rieck, 2001) Even though Dr P. Krefft worked as a doctor and a collector on three various expeditions, none of these sailed pass Australia so he could not collect the specimens himself. He was known to send a lot of herpetological material to various museums including those in Berlin, Frankfurt, Hamburg, London and Vienna. Dr P. Krefft sent the four specimens of C. steindachneri to Dr Franz Steindachner (1834-1919), the director of the Naturhistorische Museum in Vienna, an Austrian ichtiologist and herpetologist who gave the specimens of C. steindachneri to the famous Austrian naturalist Dr Friedrich Siebenrock (1853-1925) who then described the species. Siebenrock defined Marloo Station on Grey [= DeGrey] River in Western Australia as the type locality for the species but Cann (1998) disputes this fact as there is no record of any Marloo Station on the De Grey River. However, there is a place called Marloo Station (28°19'S, 116°10'E) located on the Murchison River, Western Australia, which is also located within the C. steindachneri distribution range.

Bottom photo: Ventral view of the holotype of Chelodina steindachneri (N.M.W. 19798)
The original description of Chelodina steindachneri made by Siebenrock in 1914:

Das w. M. Hofrat Franz Steidachner legt eine vorläufige Mitteilung von Kustos F. Siebenrock vor, betitelt: Eine neue Chelodina - Art aus Westaustralien.
Chelodina steindachneri sp. n.
Vier Exemplare von Marloo Station am Grey River in Westaustralien; eingesendet von Dr. P. Krefft in Lokstedt bei Hamburg, der herpetologischen Sammlung des Museums geschenkt von Herrn Intendanten Hofrat Steindachner.
Länge des Rückenschildes beim größten Exemplare 184 mm, dessen Breite 159 mm, Höhe der Schale 41 mm; diese Maße verhalten sich beim kleinsten Exemplare wie 89 : 80 : 23.
Rückenschale fast kreisrund, sehr flach, tellerförmig, vorn ebenso breit als hinten, ringsum abgerundet, seitlich nicht verschmälert. Eine tiefe Längsrinne erstreckt sich vom zweiten bis vierten Vertebrale; Schilder grob gerunzelt. Erstes Vertebrale breiter als das zweite, zweites und drittes breiter als lang, aber schmäler als die entsprechenden Costalia. Supracaudalia flach aneinanderstoßend, breiter als die angrenzenden elften Marginalia. Die vierten bis sechsten Marginalpaare ungewöhnlich breit, nicht doppelt so lang als breit.
Plastron klein, Vorderlappen bedeutend schmäler als der vordere Teil der Rückenschale und nur etwas breiter als der Hinterlappen. Brücke auffallend flach, ihr Winkel mit dem Plastron stumpf. Analschilder schmal, seitlich eingebuchtet und am Hinterende stark winkelig vorspringend. Anale Mittelnaht nur wenig länger als die femorale, aber viel länger als die pectorale.
Kopf lang und schmal, Schnauze vorspringend; Interorbitalraum ebenso breit als die Unterkiefersymphyse. Hals oben und seitlich nicht mit Tuberkeln besetzt, sondern die Haut ist so wie an den Schläfen durch Furchen in zahlreiche Felder geteilt. Bloß drei breite Querlamellen auf der Vonderfläche des Vorarmes vorhanden. Tuberkeln auf der Hinterfläche des Oberschenkels unbedeutend und in sehr geringer Anzahl.
Rückenschale lichtoliven und gelb gemischt; Plastron strohgelb mit braunen Nahtlinnien; Kopf oben olivengrün, unten sowie die Kiefer lichtocker gefärbt. Hals oben hellbraun, unten seitlich lichtocker.
Diese Art ist zunächst verwandt mit Chelodina novae-guineae Blgr.